Statistical Overview of Project Partner Areas
---
The areas taking part in the Sustainable Resilient Coasts are located thousands of kilometres apart, however all are on the periphery in the northern area. Each case study area differs in size, population, and landscape. To help provide some comparative context, statistics on the countries or case study have been gathered and are presented in the table below.
We looked at the four case studies within the COAST project of Clew Bay (Ireland), Rathlin Island (Northern Ireland), Westfjords (Iceland) and Hailuoto Island (Finland). While all the case study areas are within the Northern Periphery and Artic Area (NPA) and geographically have a lot of similarities, we also wanted to look at what the differences the countries and areas have.
Some of the statistics we look at in the below report are country population, country population density. We also looked closely at the population case study area, and this is where we have been able see the biggest difference with some area being in the hundreds of thousands while others are barley over 100 people.
We also looked at the land use and environmental designations for the case studies. This document gives an overview and is not a complete breakdown of the statistical information for the countries or case studies.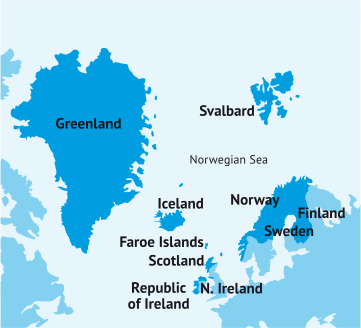 Clew Bay (Ireland)

Rathlin Island (Northern Ireland)

Westfjords (Iceland)

Hailuoto (Finland)

Country Population

5,011,500

1,810,863

368,792

5,500,000

County Population Density

72 per Km sq.

133 per Km sq.

3.6 per Km sq.

18 per Km sq.

Rural Dwelling County

37%

35%

93.9%

13.4%

Urban Dwelling County

63%

65%

6.1%

86.6%

Employment Rate (Country)

94.7%

70.7%

80.3%

72.3%

Annual Visitors to Country

9,700,000

3,600,000

687,802

7,000,000

Tourism Value to Country

€9,500,000,000

€ 845,364,720

€ 1,050,805,464

€16,250,000

Case Study area Km Sq

5,588 Km sq.

9.75 Km sq.

8,898 Km sq.

205,660 Km sq.

Case Study Area Population

130,507

160

7,108

950

Land Use (Case Study Area)

Agriculture/small scale farming/ upland grazing.

Forestry/large plantations of conifers.

Small scale mixed farming. Main settlement Church Bay, then scattered throughout the island.

A few managed forest

Very little urban settlement

some agriculture, mostly sheep farms

Mostly mountainous terrain.

Few urban areas, mostly rural settlements.
Mostly forests.

Some agriculture.

Environmental designations (Case Study Area)

Special Area of Conservation.

Special Protection Area.

Natural Heritage Area.

OSPAR Convention to Protect the Marine Environment of the North East Atlantic.

Wild Nephin National Park.

Special Area of Conservation.

Special Protection Area.

Area of Special Scientific Interest.

Antrim Coast and Glens Area of Outstanding Natural Beauty (AONB).

Hornstrandir Nature Reserve.

Breiðafjörður Marine Protected Area, Dynjandi

A number of Natura 2000 Network districts, covering most coastal areas.

One of Finland's 27 designated National Landscapes.