Part V
---
A primary purpose of Part V of the Planning and Development Acts 2000 to 2021 is to capture a portion of the increase in the land value resulting from a local authority granting planning permission for residential development. Referred to as "Planning Gain", the intention of the policy is to allow a local authority to purchase a percentage of the land at less than the enhanced market value. Such land would be utilised to deliver housing for the provision of social housing support (referred to as social housing) or for affordable housing delivery.
Part V allows the local authority to purchase a percentage of land at existing use value and to use this land for the provision of social housing support and affordable housing. Existing use value is the value of the land without the benefit of planning permission and is generally significantly less than the market value, particularly for greenfield sites. For example, the existing use value of a green field site might equal agricultural value. The benefit to be achieved by the State is the difference between the existing use value and the market value of the site with the benefit of planning permission, i.e. the net monetary value.
When Part V was first introduced in 2000, local authorities were permitted to acquire a maximum of 20% of land at 'existing use value'. This was subsequently amended to a maximum of 10% by section 31(b) of the Urban Regeneration and Housing Act 2015.
The increase in the Part V contribution from 'up to 10%' for social housing purposes to a mandatory 20%, of which at least half must be for social housing purposes and the balance can be applied to affordable and/or cost rental housing purposes, will immediately affect only new grants of planning permission in respect of sites purchased before 1 September 2015 or after 31 July 2021.
It is likely, therefore, to be a few months after commencement before the 20% requirement arises as a condition of a grant of planning permission.
TRANSITIONAL ARRANGEMENTS FOLLOWING THE ENACTMENT OF THE AFFORDABLE HOUSING ACT 2021
Transition Arrangements
Those involved in purchasing land for residential development should be aware of changes to the Part V requirement for social and affordable housing:
Land purchased on or after 1 August 2021 will be subject to a 20% Part V requirement on planning permission granted after 3 September 2021. This is for the provision of social and affordable housing.
Purchasers are advised to take this increased Part V obligation into account in relation to the price paid for residential development land.
Different Part V requirements apply to land where planning permission was granted before 3 September 2021 and to land purchased before 1 August 2021, depending on the date of purchase: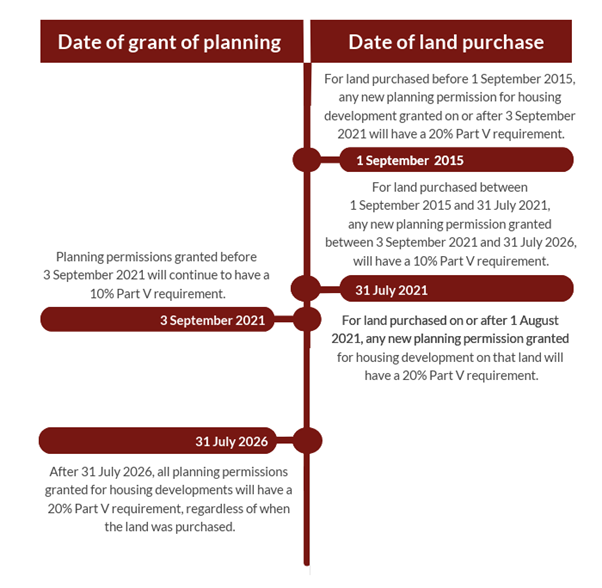 Applicants for planning permission for smaller residential developments can continue to apply for an exemption certificate from Part V which will be available to developments of 4 houses or less.
Part V Guideance for Developers can be found here