Mayo County Council Launch Free Public Wi-Fi In Towns Across The County
---
Date: 16-12-2020
Earlier this year Mayo County Council were successful in securing €60,000 under the WiFi4EU initiative. This European funding was matched funded by the Department of Rural and Community Development,
The WiFi4EU Project will provide a free outdoor public Wi-Fi service in 9 locations in County Mayo. The service is installed in public places such as main streets, public parks and other public areas of high footfall. The WiFi4EU initiative aims to provide high-quality Internet service, free of charge in these public spaces. This new service encapsulates one of the main pillars of the upcoming new Mayo Digital Strategy, "Infrastructure", a key enabler of any new modern society and one which will allow the citizens of Mayo to grow in this new phase of digital technology.
The launch of Mayo's Wifi4EU service took place today, December 16th, in Ballina. The first group of towns going live this week are Ballina, Belmullet, Crossmolina, Newport & Swinford. It is envisaged that a second group of towns will go live in Q1 of 2021. The Wifi4EU service has been installed and will be supported by Castlebar Company Westnet,
The Cathaoirleach of Mayo County Council, Councillor Richard Finn welcomed todays launch "This is a good news story for towns across Mayo . It's a fantastic achievement to get this level of connectivity into these towns which will benefit all sectors of society. I would like to extend my thanks the multiple stakeholders in bringing this project to fruition"
Heather Humphreys T.D, Minister for Social Protection and Rural & Community Development added "Firstly, I want to acknowledge the work of predecessor, Michael Ring TD, who launched this excellent initiative. I am delighted that my Department was able to support the deployment of this great EU initiative. This will greatly improve the life and experience of both residents and tourists alike. The co-funding provided by my Department has allowed the networks launched today to reach a greater and wider community than would have been possible with the European funding alone. This demonstrates what can be achieved when multiple players work together towards a common goal so I would like to thank all involved in delivering today's achievement, from the County Council, to the installation company Westnet and the WiFi4EU team in the European Commission.
At a time when good connectivity proves itself more and more necessary each day, today's launch is a very important step and I would also like to thank David Reddington, Mayo's Broadband Officer. His continuous engagement with my officials and the European Commission ensured this project would be delivered successfully. With the launch of the WiFi4EU networks today, and the recent launch of the BCPs, Mayo is truly on the way to a fully digital future and I wish them the best of luck."
Interim CE Peter Duggan, Mayo County Council outlined his support of the launch. "I am pleased to see this project progress and to see the towns of Ballina, Belmullet, Crosmollina, Newport and Swinford benefit from the outdoor public Wi-Fi access points. This will provide free Wi-Fi for visitors and local residents across the county, helping to bring about a better digitally connected Mayo".
Westnet CEO, Paul Cunnane commented "Westnet are proud to have been selected to build these networks for the people of Mayo. As a local ISP with more than fifteen years' experience in delivering wireless and fibre broadband to customers throughout the region, we're happy to continue our long record of cooperation with Mayo County Council".
Pictured in the main image at the launch in Swinford with Cathaoirleach of Mayo County Council, Cllr. Richard Finn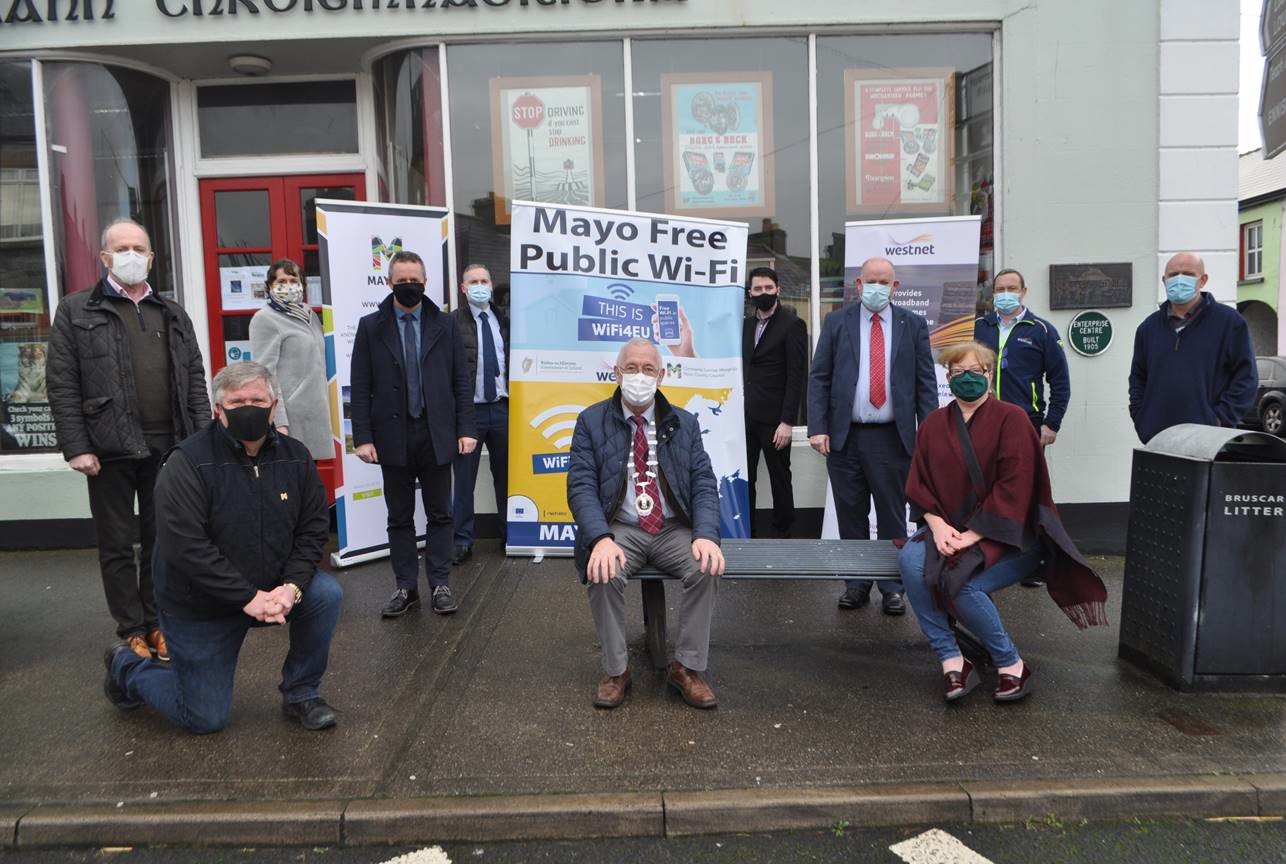 Pictured at the launch in Crossmolina with Cathaoirleach of Ballina Municipal District Cllr Seamus Weir
Pictured at the launch in Ballina with Cathaoirleach of Ballina Municipal District Cllr Seamus Weir