Meet the Artists on our Curated Programme
---
Aibreán Artist Biographies

John Conway | Visual Artist
John Conway is a visual artist working extensively in community, youth and health settings. His work is characterised by innovative multi-disciplinary projects which result in sophisticated solo and participatory artworks, often produced in response to sensitive, challenging, or novel contexts. John is a studio artist at Rua Red South Dublin Arts Centre, the founder and director of Other People's Practices, and the Artistic Director of the multi-award winning Kildare Young Filmmakers (Ireland's Best Group Film Award 2020 & 2021). Recent awards include The Next Generation Award 2021, Brightening Air | Coiscéim Coiligh 2021, Professional Development Award 2021, The Arts Participation Bursary 2020 (all Arts Council), Kildare County Council Arts Service Creative Ireland Funding 2021, and the artsandhealth.ie Reflection Bursary 2021.
Find out more at www.johnconway.ie IG @john_conway
Landless | Musicians
Landless are Ruth Clinton, Meabh Meir, Sinead Lynch and Lily Power. They sing unaccompanied traditional songs from Irish, Scottish, English and American traditions in close four part harmony. Their repertoire features songs of love, death and lamentation, as well as work songs, shape-note hymns and more recently penned folk songs. Landless have performed in a variety of settings, both in Ireland and abroad, and are closely involved with traditional singing sessions in Dublin and Belfast.
Find out more at: https://wearelandless.wordpress.com/
Eriko Uehara Hopkinson and youth choir
Eriko Hopkinson comes from the island of Okinawa, Japan, where she gained a BA in Music Education and Singing (including studies in piano, conducting and composing) at the National University of the Ryukyus, Okinawa. She took further studies in acting, singing and dance at the renowned Theatre Shiki Acting Institute, Tokyo. Eriko has studied under Gabriella Thész, Zoltan Pad, prominent Hungarian choral directors and Estonian choral conductor Aria Birzina at the AOIC International Conducting Summer School. She founded Westport Children's Choir and Westport Youth Choir, and the choir has won many awards; travelling to Vienna, Prague in 2018, where, along with the youth and children's choirs from around the world, they presented the world premiere of La Cigarra y la Hormiga, a new suite of songs by Cristian Grases, in Carnegie Hall, New York.
POET BIOGRAPHIES
Séamus Barra Ó Súilleabháin
Súil Amháin is the hip hop project of Irish language poet Séamus Barra Ó Súilleabháin. In 2021 Súil Amháin released four songs, all produced by Bantum -Viva Liobarnach; Lá Breá; Incantation of Féile-Flow Funk and Oíche Mhaith. Séamus Barra published his first collection of poetry Beatha Dhónaill Dhuibh (2016). Séamus has done extensive research on the relationship between composition and folklore in the writings of the Blasket Island poet Mícheál Ó Gaoithín. For this Faoin Spéir commission Séamus will write a piece in response to Raifteirí. He will be colloborating with the Gaoth Dobhair musician Robert Mulhern.
Terry McDonagh
Terry McDonagh is a poet, translator (German/English) and dramatist and has facilitated in Europe, Asia and Australia. He has taught creative writing at Hamburg University and was the Drama Director at Hamburg International School. He has published eleven poetry collections as well as letters, drama, prose and poetry for young people. His work has been translated into German and Indonesian. Two Notes for Home – a radio documentary on the life and work of Terry McDonagh, by Werner Lewon, has just been released. He's a member of Hamburger Autorenvereinigung (Association of Hamburg Authors). His next collection is due autumn 2022, published by Arlen House.
Geraldine Mitchell
Geraldine Mitchell is a Dublin-born poet and writer who has been living on the Co Mayo coast, not far from Louisburgh, for many years. Her fourth collection of poems, Mute/Unmute, was published in 2020. Geraldine is a Patrick Kavanagh Poetry Award winner and her previous collections are World Without Maps (2011), Of Birds and Bones (2014) and Mountains for Breakfast (2017). She is published by Arlen House.
Sasha Terfous
Sasha Terfous was announced in 2021 as the Poet Laureate for Wexford. The past three years have found her undertaking commissions for NUI Galway and the Female Tribes project; speaking at the launch of the Centre for Environmental Justice alongside Mary Robinson; performing for the online edition of Bloomsday with Aidan Gillen, David Norris and Glen Hansard; appearing as part of Word Up Collective's curations for Music Town and Dublin Quays Festival; touring with Wooden Elephant on their German performances of Beyoncé's Lemonade album and collaborating with the Adrian Brinkerhoff Poetry Foundation in New York and Poetry Ireland on a video interpretation of her piece Identity- the audio of which was made a track of the week on RTE 2FM.
Nithy Kasa
Nithy Kasa is an Ireland based poet of Congolese origin. Her poems have been published in Poetry Ireland Review; Trumpet Magazine; SAH Journal; Flare; A New Ulster; Dedalus Press' Writing Home: The New Irish Poets and the commemorative anthology from The Ireland Chair of Poetry Hold Open the Door by UCD Press. She received the Poetry Ireland commissions 2020, with the support of an Arts Council of Ireland Commission Award. She was short listed for The Eavan Boland Emerging Poet Award 2021. Nithy's debut collection of poetry is due to be published by Doire Press in May 2022.
Ger Reidy | Poet
Ger Reidy's first collection of poetry, Pictures from a Reservation, was published by Dedalus Press. He has been published in many literary journals, both at home and abroad, and has read at numerous festivals, including the Cuirt Festival in Galway in 2010 and in 2016, where his second collection, Drifting under the Moon, was launched. He has received an arts council bursary and bursaries from Mayo Co Council. His third collection Before Rain was shortlisted for the Piggot Prize and his collection of short stories Jobs for a Wet Day was nominated for the Edge Hill Prize. He has been translated into Turkish and Russian and has won several poetry prizes.
Musician biographies
Tony Reidy | Singer, Songwriter
Tony Reidy is a singer songwriter from Westport Co Mayo Ireland. His folk albums have received favourable reviews in National and International music press (Irish Times ,fROOTs , MOJO and BBC Music Magazine]. His music has been played on RTE Radio 1, Radio na Gaeltachta and BBC radio. In 2019 he won the showcase competition at Ballyshannon Folk and Traditional Festival
Diarmuid Moynihan | Piper
Diarmaid Moynihan is regarded as one of Ireland's most creative uilleann pipers and composers. He was tutored initially by the late Tomás O' Canainn at the Cork School of Music before developing his own very distinctive style. After founding the groundbreaking band Calico, who released two award winning albums, Diarmaid has gone on to work with many cutting edge folk musicians including Donal Lunny, Alain Stivell, Liam O' Maonlaí, Guidewires, John Spillane, British jazz pioneers Carmina and many others.
He has long been admired as one of the most lyrical composers working today in Irish Traditional Music and his pieces have been recorded by some of traditional music's greatest musicians including Lunasa, Flook, Michael McGoldrick, Anxo Lorenzo and Cherish the Ladies. He has appeared on many tv and radio shows and has written the theme music for a number of documentaries on TG4. His most recent contributions to the screen have been to provide music for two Des Kilbane productions, An Croí Trodach and Fists of Bronze based on the extraordinary life of Achill's own Johnny Kilbane.
His newest recording, Black Brook is as part of a trio, entitled Moynihan with siblings Donncha and Deirdre and was released in 2022.
Laoise Kelly | Harpist
Laoise Kelly is regarded as "the most significant harper of her generation". She has pioneered a new style of driving instrumental harping showcased in her three critically acclaimed solo albums Just Harp, Ceis and Fáilte Uí Cheallaigh. She recently directed the first, highly successful, Achill International Harp Festival, encompassing her role as musical director of a newly commissioned Suite Sraith Oileán Acla for a 15 piece ensemble. Throughout her solo career she has recorded on over 60 albums with many of Ireland's foremost artists including Seamus Heaney, The Chieftains, Christy Moore, Sharon Shannon, Dónal Lunny, Tommy Makem, Matt Molloy, Tommy Peoples, Mary Black, Maighread & Tríona Ní Dhomhnaill, as well as Kate Bush and American country/bluegrass icon Tim O'Brien. She has toured and performed globally and at festivals such as Womad, Celtic Connections, Celtic Colours, Tonder, Dranouter, Lorient, Milwaukee, Armagh Piping Festival and all major harp festivals in Europe. Her latest album release is 'Ar Lorg na Laochra' with Monaghan Uilleann piper Tiarnán Ó Duinnchinn.
Robbie Harris | Musician
Robbie Harris has performed and recorded with the Grammy nominated Afro Celt Sound System and over the years he has worked with artists such as: Bobby McFerrin, Clannad, Bob Geldof, Jiggy, Rodrigo y Gabriela, Kodaline, Brian Kennedy, Steve Cooney, Dónal Lunny, Sharon Corr, Luka Bloom, Moya Brennan, Celtic Woman, The High Kings, Emer Mayock and world music artists such as, Hector Zazou, Nitin Sawhney, Theodosii Spassov, Mamady Keita and Dhoad Gypsies of Rajasthan. He has recorded and performed with The RTÉ Concert Orchestra, Bratislava Symphony Orchestra, Galician Philharmonic Orchestra, Il Giardino Armonico and many other chamber orchestras and ensembles.
As musical director of The Rhythm Corporation he has led a thirty strong drum corps at International sports events in Croke Park and Aviva Stadium Dublin. He has worked in theatre companies with The Abbey, Teatrul National Bucuresti, Fabulous Beast Dance Theatre, Rough Magic, Corn Exchange, Passion Machine, Macnas, Dance Theatre of Ireland, The Ark, Barnstorm, Siamsa Tire, Rubato Ballet and Dublin Youth Theatre. Film and TV credits include; Float Like a Butterfly, Love/Hate, Saving the Titanic to name but a few
---
IMBOLC Artist Biographies
Catherine Donnelly | Dance Artist
Catherine has been working in the West of Ireland as an independent dance artist in the community since 2000, working with a wide variety of organisations, age groups and abilities. In 2007 she founded The Elderberries, a creative movement and dance group based in Roscommon Arts Centre, currently meeting weekly on Zoom. In 2013 she founded Achilles Dance Initiative to encourage participation in community and contemporary dance in Mayo and Roscommon. Over the course of her career, she has been awarded Dance Residencies with Roscommon, Mayo and Westmeath
County Councils. She recently finished working on her first Commission,'Navigating a Future' awarded by Mayo County Council. Catherine is currently working on the new Arts in Education BLAST programme and during 2022 will begin a residency in Ballina Arts Centre, part of their Arts Council Dance Artist Residency Scheme.
Mags Duffy | Visual Artist
Mags Duffy is a visual artist based in Westport, Co. Mayo. She has a background in experimental textiles and a postgraduate qualification in arts education. She has been involved in teaching and community projects for the past thirty years. Most recently she participated in the Teacher Artist Partnership programme organised by the Mayo Education Centre, and is on The BLAST register of approved artists. Since 2019 she has exhibited with The Hamilton Gallery, the Royal Ulster Academy, Belfast, The Museum of Literature, Dublin, The Model, Sligo and The Linenhall Arts Centre, Castlebar. She was also involved in the inaugural Straight Out of Ireland Exhibition in Philadelphia. She is the recipient of a 2021 Arts Council Agility Award.
Breda Mayock | Visual Artist and Musician
Breda Mayock is an artist and musician living in Co. Mayo. She has toured and exhibited internationally. In 2020 she was the recipient of the Navigating A Future music commission and in 2021 released an EP of new songs titled Waves. Mayock's sound has been characterised by Nialler9 in The Irish Times as one that transverses folk, world and alternative music with grace.
Her album Learning Place was released in 2017, following her previously acclaimed 2015 album, recorded and recorded by French producer Hector Zazou in Real World Studios where she recorded with Peter Gabriel. Her produced with guitarist Steve Cooney. Breda's previous recordings include Lights in the Dark, an album singing also features on Hughes de Courson's O'Stravaganza and Breton harpist Alan Stivell's album 1 Douar.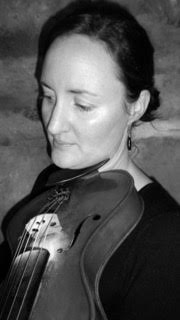 Julie Langan | Musician
Julie Langan is a fiddler from Newport, County Mayo. She learned her music largely from relations and musicians in her local area. She has several recordings and numerous television and radio appearances to her credit, including an acclaimed duet album entitled Fonnchaoi, with accordion player Verena Commins. She has toured both nationally and internationally with various music groups and musicians. She has lately been involved with the Music of Mayo project which involved her recording some Mayo tunes for their archive, some of which were released on CD. She teaches and performs nationally.
Mags Gallen | Singer and Musician
Mags Gallen is a musician and singer originally from Co. Monaghan, now residing in Westport. She is a member of the band Arcanadh and has recorded many albums with them. She has performed in many stage productions, on several musical recordings, and regularly plays and sings around Westport and beyond. She is a member of Cór Mhaigh Eo and has won awards with Breaffy National School in the Waltons music competition for schools.
Freda Hatton | Musician
Freda Hatton holds a BA in Music and Irish from UCC. She won the Senior All-Ireland Harp Competitions at Fleadh Cheoil na hÉireann and the O'Carolan Harp Festival, Keadue, Co. Roscommon. She composed and performed music with Branar Téatar do Pháistí and has performed all over the world at concerts, festivals and events. She was the selected harpist on the Comhaltas Ceoltóirí Éireann tours of Britain and North America. Freda performed with the renowned singing ensemble Coda as part of this year's Achill International Harp Festival, in a special commission produced by Steve Cooney.